"Don't forget the people who helped you get to where you are today."
I love instagram.  I love it because I can post memories, see what my friends are doing, and get quick doses of inspiration.
Hiten (@hnshah), posted a great photo that I have been internalizing this morning.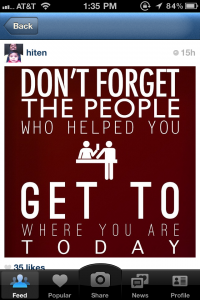 I would take this a step further and reach out to the people who have helped shape you and share your appreciation for them.  It only takes a moment and it feels really good!